What is it all about?
Explore these approaches to counselling; click to find out more.
You
What are the challenges you are facing and strengths that brought you here
Me
I will endeavour to earn your trust by being real and honest about my limitations
Us
Our therapeutic relationship based on trust can go at a pace and as deep as you feel comfortable
Where from here?
Get in touch to explore what empowerment can be for you
Why Me?
I have a Bachelor of Science degree with Honours (BSc Hons) in Counselling and am an accredited member of the British Association for Counselling and Psychotherapy (BACP) and supervisor (NCS).

Other Qualifications & Experiences

Enhanced DBS Certificate; Accredited to work with Sexual Abuse, Gloucestershire Rape and Sexual Abuse Centre (GRASAC); Tackling Female Genital Mutilation (FGM) in mental health services, Department of Health; Certificate in using counselling skills with the telephone as the medium of Communication and Self-awareness in relation to social services work certificate; Applied Suicide Intervention Skill (ASIST); Working with Relational Trauma: Dealing with Disorganised Attachment; Alcohol Addiction, co-dependency and motivational interviewing, SWAN Training Certificate; Organisation and facilitation of contact groups for individuals and couples who face infertility challenges; Nonviolent Crisis Intervention; The Art of Giving and Receiving - The Wheel of Consent with Dr Betty Martin; Pluralistic Approach to Therapy with Mick Cooper; Climate Change and Gender Inequality, Durham University; The Dream Completion Technique with Dr Justin Havens, EMDR Consultant; Boarding School Syndrome with Prof. Joy Schaverien

Memberships and Networks

Registered Member of the British Association for Counselling & Psychotherapy (BACP); Durham University's Centre for Research into Abuse and Violence (CRiVA); University of Bristol, Gender and Violence Research; Positive Outcomes for Dissociative Survivors (PODS); Violence, Abuse and Mental Health Network (VAMHN)

-> Read more about my qualifications-> Groups & Workshops
Kerstin Pullin
BSc Hons, MBACP (Accred), Supervisor (NCS)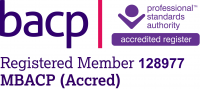 Gender and Diversity
Our beliefs about gender and diversity, verbally expressed or not, influence our life experience and apart from the risk of negatively impacting on relationships, they also provide the opportunity to understand and learn from each other, therefore laying the foundation for creating and modelling relationships based on equality.

Academically, I undertook research in social constructionism and empowerment initiatives and their impact on professionals working with children and adults affected by sexual abuse; primarily incorporating aspects of gender, linguistics, neuroscience, diagnostics (e.g. Borderline Personality Disorder (BPD), Post-traumatic Stress Disorder (PTSD), Dissociative Identity Disorder (DID) and to some extend sexuality (e.g. sexual fluidity) and cultural influences (e.g. attitudes to gender).

I have been working in the field of mental health in various capacities since 2005, before choosing to pursue an academic path within the psychology sector in 2012. During this time I had the privilege of working in the UK and abroad, with many individuals from all walks of life and a variety of cultural backgrounds.
Fees
FLAT RATE
Regular sessions are 50 minutes in length. I can offer an initial 30 minute session at a reduced rate of £25 to discuss what you are looking for, what I can contribute and gauge if you feel safe and comfortable working with me.
Contact Me